Design-build firms provide architecture and construction services via one contract and one team, eliminating the headaches that arise from attempting to keep clients and multiple partners on the same page. This streamlined approach often means projects can be executed with shorter timelines and more efficient budgets. It's a perfect approach for New Yorkers, who want it done well and want it done now.
Our editorial team has selected and evaluated the top-performing general contractors offering comprehensive design-build solutions in New York. These companies were assessed based on a number of criteria, including years of experience, mastery of the trade, and industry accreditations and certifications. The strength of their portfolios, awards, and press recognition were also taken into account. This list features 15 of the best design-build firms in the city.
---
Aerial Design and Build
122 E 57th St. Suite #4R, New York, NY 10022
Aerial Design and Build is a full-service design consulting, general contracting, and project management firm serving clients throughout New York City. The firm was founded 13 years ago by seasoned professionals Julie Kelley and Rupila Sethi. Julie brings more than three decades of business experience to the practice and leads the corporate side of the business. She manages the firm's day-to-day operations, working closely with project managers and handling contracts. Meanwhile, with degrees in architecture and lighting design under her belt and more than 20 years of experience working side by side with retail brands, restaurant owners, and residential clients, Rupila maintains a quality control while ensuring the project goals are met and each client's vision is realized.
Aerial Design and Build is a member of the New York City Hospitality Group and the U.S. Green Building Council (USGBC). New York Magazine consistently lists Aerial Design and Build among the top contractors in the city, and the firm's projects have garnered attention from Architectural Digest, The Huffington Post, and CNN.
---
Agencie Architecture + Engineering
145 Hudson St. Suite #203, New York, NY 10013
Architecture and engineering firm Agencie is a solutions-focused practice that provides architecture, engineering, design-build, and construction management services in the U.S. and Canada. Founded in 2007, the firm has designed and built more than 300 projects amounting to more than $500 million. Its extensive expertise encompasses design-build for custom residences, real estate development, building envelopes and enclosures, commercial tenant improvement, specialty structures, architecture, and structural engineering. Over the years, Agencie has designed, engineered, and constructed projects using distinct elements, such as glass, timber, concrete, steel, and composite materials. It has worked methodically across a wide range of building classifications and program typologies.
Agencie has developed a reputation for reliable expertise and high-quality end-products. In each project, the team ensures meticulous attention to detail and thorough communication to precisely address unique client needs. The firm exemplified these practices in a project that involved the merging of two West Village lofts. The resulting loft features a limited material palette, which allowed for a strict yet stunning coordination of different materials and details, making the space quintessentially New York.
---
Bolster
119 W 24th St., New York, NY 10011
Home renovation company Bolster has established a reputation for its data-driven and streamlined approach to design and construction. The firm's mission is to eliminate the risks associated with major home renovations through transparency and financial guarantee, as well as an efficient design-build process. Thanks to the company's team of skilled experts, clients can expect to pay no unexpected costs and have their projects completed two weeks early, on average.
Since 2012, the firm has completed more than 1,000 complex projects in New York and has been featured in several publications, such as Brownstoner, ArchDaily, and The New York Times. What sets the firm apart from other design-build contractors is that Bolster provides a lifetime warranty for its projects, which is an industry first.
The owners of the featured Upper West Side home hired Bolster to design a clean and contemporary renovation of the 1,650-square-foot space to better accommodate their family of five. The team updated the layout and design of the apartment, opening up the floor plan to create a parlor room and a kitchen with a countertop extension that flows into the dining area. A key design feature is the Porcelanosa ceramic tile wall in the living area, which serves two purposes: it acts as a disguise for the wall-mounted TV and serves as a grounding element for the otherwise light and natural airiness of the apartment. For more information on Bolster, you can visit their website here.
---
Crafted Interiors
110 W 40th St. Suite #2100, New York, NY 10018
Crafted Interiors is a full-service design-build firm that specializes in interior renovations, providing turnkey solutions to clients throughout New York. With an experienced team of in-house architects, designers, and builders, the firm ensures successful projects with timeless results. The team has the knowledge and understanding necessary to guide clients through the design process and transition to the build phase. Past clients have lauded the firm's thoughtful planning and responsiveness in its renovation projects.
The featured three-bedroom, two-and-a-half-bath residence in the heart of NoMad was a challenging project for the team. However, Crafted Interiors was able to add value to the home by incorporating custom millwork, a modern kitchen, and a central AC system. Additionally, the team utilized the space's existing beams to add recessed lighting without sacrificing the ceiling height throughout the home.
---
Design+Build Enterprises
175 Varick St., New York, NY 10014
Design+Build Enterprises is the general contracting, management, and advisory firm making a mark on New York's most popular neighborhoods. Tambi Kat—a Leadership in Energy and Environmental Design (LEED)-certified professional and graduate of a five-year architecture program—established the company and now serves as its principal. Kat is also a hands-on project director, connecting clients with the firm's talented team of designers, technology specialists, and craftspeople. Kat worked with architects and development firms for years before striking out on his own to assemble a team that would offer soup-to-nuts design and build services. Today, Design+Build Enterprises works on brownstones and apartments in Brooklyn Heights, Park Slope, and Fort Greene, where home listings frequently top $15 million.
One of the firm's projects was the full-gut renovation of a landmark brownstone in Fort Greene. Design+Build Enterprises renewed and modernized the building, which now touts custom millwork and solar roof panels. What's remarkable is the team completely preserved and restored the original details of the building during the renovation. This particular project exemplifies the firm's strong attention to detail and superior construction methods.
---
Dixon Projects
Harborside Plaza 2, 200 Hudson St. Suite #1000, Jersey City, NJ 07311
Specializing in renovations, Dixon Projects delivers award-winning construction and project management, architecture, and interior design services across the New York metropolitan area. As a one-stop-shop for diverse design, renovation, and construction solutions, the company has a highly experienced team of architects, interior designers, and construction managers. Over the years, the firm has completed more than 1,000 projects and has caught the eye of several award-giving bodies, thanks to its top-notch design and construction workmanship. In fact, in 2018, Dixon Projects received immense recognition from the American Residential Design Awards, winning the Global Choice, Design Details, Best Renovation, and Outdoor Living awards, among others.
In every project, the firm builds upon the visions and goals of clients, while considering different needs, preferences, and budgets. The team then aligns these factors with critical design and building requirements to create structurally sound and visually striking spaces. In one project, the team reworked a SoHo loft to better utilize the space and incorporate a modern and minimalistic design throughout. Dixon Projects stripped the interior of its outdated finishes and fixtures and added brightness to the space through the use of white oak hardwood floors. Additionally, the team incorporated a kitchen with glossy white cabinetry set against a white Macaubas Quartzite stone countertop and backsplash. Meanwhile, the combination of glass and matte black steel on the staircase and the feature wall of the guest bedroom provides the perfect industrial touch.
---
Ecostruct
214 7th St., Brooklyn, NY 11215
Ecostruct has built a reputation for delivering high-performance design and building solutions since its inception in 2009. It offers full-service design-build work, management and consultation, and high-performance construction and development services. Serving clients across the Tri-State area, the practice has worked on numerous design-build projects with a focus on sustainable and high-performance construction. With offices in Brooklyn and Shelter Island, the firm also has access to a wide array of sustainable resources from local artisans and manufacturers. Ecostruct is a certified Passive House trade company and a LEED-accredited firm—these accreditations serve as testaments to the firm's dedication to high-quality, sustainable, and energy-efficient processes and end results.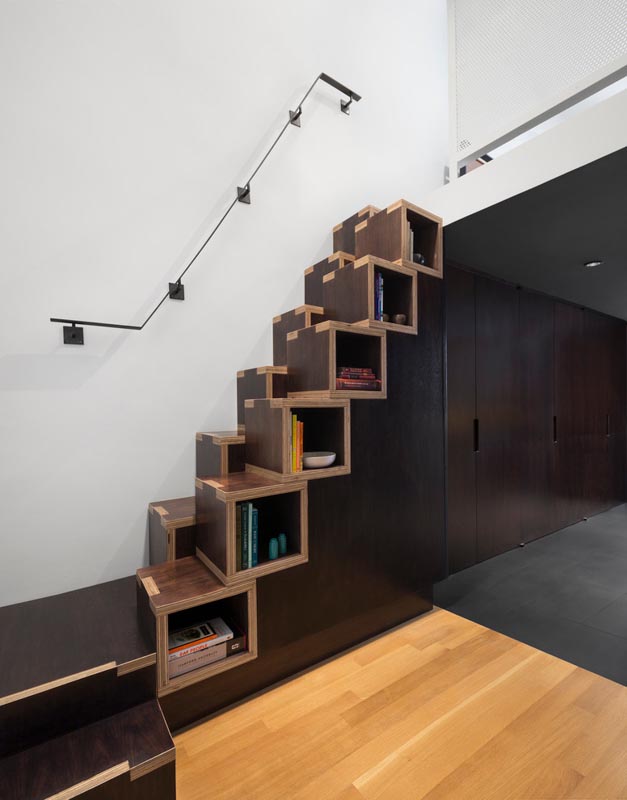 Ecostruct worked together with interior design studio General Assembly to create a contemporary haven in a loft near Union Square. The post-war-renovated apartment had high ceilings and double-height windows, which offered great structural and design potential. The teams revamped the space by opening up multiple walls to provide direct exposure to the large windows. Additionally, Ecostruct built and installed a custom dark walnut kitchen with PaperStone countertops, a black Blanco sink, and stainless steel appliances. The team also installed floor-to-ceiling walnut doors on offset Deltana pivot hinges to take advantage of an existing recess in one wall, adding significant storage space.
According to the firm, the most challenging element of the project was designing and building a set of stairs to fit the existing space between the entryway and the loft. To address this, Ecostruct engineered a set of alternating-step stairs, leaving the finished edges exposed to provide a contrast to the dark walnut treads. To finish the structure off, the team mounted a cold-rolled steel railing to the wall.
---
Essential Design + Build
555 Fifth Ave., 16th Floor, New York, NY 10017
Formerly known as Atco Construction, Essential Design + Build has provided detail-oriented architecture and construction services since 1971. Working out of its Midtown office, USGBC-certified firm's LEED AP staff uses sustainable construction practices to complete residential and commercial projects throughout the city. Essential Design + Build projects have appeared on Curbed New York. Interior decorating magazine House Beautiful has asked the firm to share its expertise for a feature on urban remodels.
The firm's primary philosophy is to provide clients with all of the necessary resources, from the initial planning stages to completion. As a result, the team delivers well-coordinated projects that translate into impressive structures and spaces. Such is the featured East Village triplex. Along with the architectural team at Atema Architecture, Essential Design + Build was commissioned to transform and reimagine a three-story, 1,500-square-foot apartment for a family of four. The home features a two-bedroom suite at the lower level and a master suite on the mezzanine linked together by elegant and clean living spaces.
---
Harper Design + Build
343 Sixth St., Brooklyn, NY 11215
Harper Design + Build, a Brooklyn-based firm, provides a full-service architectural, construction and design experience to homeowners in New York's well-established and currently trending neighborhoods. Principal, architect, and general contractor Ryan Harper founded the firm in 2004, drawing on his experience as an architect and contractor with Gensler and Saladino Group. His college experience at the University of Cincinnati architecture program gave him a formal and practical education in the finer points of design and project management. Also a principal and licensed architect, Christine Harper joined the company after nine years as a senior associate at 1100 Architect, working on residences for high-profile clients. In total, Harper has more than 20 years of experience in high-end residential design. Clients can look for projects by Harper Design + Build in Architectural Digest, Forbes, and Elle Decor.
Harper Design + Build has worked on numerous architectural planning, construction, and interior design projects. One of its design-build ventures was the renovation of a 3,800-square-foot apartment, which turned the space into an open and bright home. The renovation occurred in two phases and involved the relocation of the kitchen for easier access to the main living space and for opening up views of the East River.
---
Hatchet Design Build
628 Grand Ave., Brooklyn, NY 11238
Founded in 2015, Hatchet Design Build is comprised of an in-house design team, contractors, and a custom fabrication studio. The Brooklyn-based firm specializes in full-service design-build work throughout Brooklyn and Queens, and recently across Manhattan. Although the firm has been in business in less for than a decade, Hatchet Design Build's stunning projects have been recognized by prominent publications, such as Brownstoner, Hunker, Domino, Dwell, Interior Design Magazine, Architectural Digest, and Dezeen among many others.
Each Hatchet Design Build project exemplifies the team's fine attention to detail and superior building methods. For instance, this 19th Century townhouse—located just off Grand Army Plaza in North Park Slope—was embellished with cabinets, closets, and vanities created by the firm's fabrication shop. The Hatchet Design Build team also restored the staircases and fireplaces to their original aesthetic.
---
KBR Design and Build
838 6th Ave., 5th Floor, New York, NY 10001
Since its founding, KBR Design and Build has directed its resources and efforts to providing dynamic solutions to intricate residential remodeling and renovation projects throughout NYC. From simple remodels and total apartment renovations to complete commercial construction, KBR Design and Build provides unmatched expertise and guaranteed fixed prices and schedules for all projects. What's more, the company uses environmentally friendly products and practices to lessen its carbon footprint and to increase project sustainability. The firm is a member of multiple industry associations, such as the National Association of the Remodeling Industry (NARI) and the National Kitchen and Bath Association (NKBA).
As a design-build firm, KBR Design and Build comprises professionals who operate in lockstep and are confident in each member's ability to carry the plan forward. All are committed to creating spaces that look and feel the way clients envision. As a result, numerous people continue to seek the firm's comprehensive services, such as the owners of the featured SoHo penthouse apartment.
The project involved the complete gut renovation of three bedrooms and three bathrooms as well as the design and construction of a custom kitchen suitable for entertaining. It also included the installation of a remotely controlled system for heating, cooling, sound, security, and privacy. In the living room, the KBR Design and Build team installed faux brick paneling that included the integration of Trane heating unit cover panels. The firm also designed, built, and installed custom frameless doors throughout the home.
---
Knockout Renovation
810 2nd Ave., New York, NY 10017
Since its establishment in 1992, Knockout Renovation has completed thousands of remodeling projects in Manhattan and Brooklyn. The firm specializes in residential interiors—so much so that it doesn't perform exterior, commercial, industrial, or government work. As a result, the team has developed proficiency in all facets of interior renovations, handling everything from paperwork and filing to home decor, architectural services, and anything a client needs to make their dwelling a clean and functional space. The firm's streamlined, cost-effective, and time-saving remodeling services have produced impressive spaces, many of which have been featured on numerous media outlets, including The Rachael Ray Show, Queer Eye for the Straight Guy, CBS TV, The New York Times, and The New York Daily News.
Knockout Renovation's team of top designers, tradespeople, and project staff effectively guides clients through the remodeling process. What's more, the team approaches each project with a foundation of strong design aesthetics and functionality, comprehensive product options, sound project management, and a commitment to craftsmanship. The featured project is a result of this strong dedication—Knockout Renovation renovated a 1,000-square-foot, two-bedroom apartment on 150 East 49 Street. The project scope included the complete remodel of the bathroom; painting and floor sanding and staining throughout; and several window replacements. In the kitchen, the team templated and installed Silestone and granite countertops as well as a ceramic and porcelain tile backsplash.
---
Leib Designs
444 W 50th St., New York, NY 10019
Leib Designs is an architecture, design-build, and development firm led by Assaf Leib. An interior architect and industrial designer, Leib is a graduate of the Bezalel Academy of Arts and Design in Jerusalem and Politecnico Di Milano in Italy. He was educated in and is inspired by both contemporary and traditional design elements. This has resulted in designs that utilize natural and staged lighting and maximize available square footage. Leib collaborates with his clients in order to deliver a finished product that exceeds both of their expectations. Former clients laud Leib for his calm demeanor and keen understanding of unique client needs, which allow him to effectively communicate with all of the tradespeople and professionals involved in a project.
The featured penthouse project exemplifies the firm's immense creativity. Located on 420 East 51 Street, this residence touts custom home furnishings with unique forms and materials. The original rooms made for awkward spaces, whereas the new design and layout created rooms with more privacy. The team tore down a few walls to make way for an open living space, but it also added a couple more to create a private office/nursery. The firm's biggest challenge was to create a custom lavish media center to house the owner's prized audio equipment, with a fireplace incorporated into the center of the space.
---
Made Architecture
141 Beard St., Building 12B, Brooklyn, NY 11231
Established in 2002, MADE is an innovative combination of a design studio, fabrication workshop, and contracting team under one roof. The firm specializes in design-build services, focusing on residential homes and custom retail boutiques in and around New York. Over the years, the firm's exceptional projects have been featured in several publications, including Architectural Digest, Dwell, Elle Décor, House & Garden, Interior Design, New York Magazine, The New York Times, The Wall Street Journal, and World of Interiors. These numerous recognitions serve as testaments to the firm's impressive skills and capabilities.
Ben Bischoff, the company's principal, is a registered architect and contractor in New York. He holds a Master's Degree from the Yale School of Architecture and was awarded the David Schwarz Good Times Award traveling fellowship for excellence in design during his stay there. He also served as the construction supervisor for the Yale Building Project for two years. Bischoff worked as a designer at Steven Haris Architects and Deborah Berke and Partners prior to founding MADE. Today, he presents MADE's work in lectures at Mississippi State University, Tulane University, University of Kansas, University of Pennsylvania, and Yale University.
---
TRA Studio
1 Maiden Ln., New York, NY 10038
Founded in 1997, TRA Studio unites the capabilities of artist, environmental designer, and American Institute of Architects (AIA)-licensed architect Robert Traboscia and AIA member Caterina Roiatti. The practice draws on Traboscia's and Roiatti's prior experiences in leading projects of various types, scales, and geographical locations. This collaboration has resulted in TRA Studio's interdisciplinary project approach and diversified portfolio of contemporary build-outs and historical renovations. Throughout its more than two decades in business, the firm has drawn attention from notable publications, such as The New York Times, Architectural Record, and The New York Post.
Fulfilling the modernist practice of integrating interiors and exteriors, TRA Studio designed eight floors of a building on 44 Mercer Street as well as the interior of the building's penthouse. The resulting interior space builds on all the attributes that make the old loft apartments desirable, while adding more modern and efficient amenities. For instance, the light maple floor adds to the airiness of the space, while the generous ceiling height is enhanced by the lighting. A large Bulthaup kitchen, clad in a metallic bronze palette, and crisp bathrooms complete the industrial, modern interior.