New York's food scene is as diverse and competitive as New York itself. There are dozens of restaurants across Manhattan, Queens, and Brooklyn that are Michelin-starred, with cuisines originating from every corner of the globe. In an international city that celebrity chefs like Tom Colicchio, Daniel Boulud, Jean-Georges Vongerichten call home, restaurants must distinguish themselves through their menus and their design. The firms on our top restaurant architect list have designed eateries that continue to shape the ever-evolving New York City restaurant landscape, and they have won the industry's highest awards.
---
Allied Works
12 W 27th St.18F, New York, NY 10001
Allied Works is an interdisciplinary architecture and design practice based in Portland, Oregon, and New York City. Led by Founding Principal Brad Cloepfil, and Principals Kyle Lommen and Chelsea Grassinger, the firm has received widespread acclaim for their residences, creative workplaces, academic and civic institutions, and spaces for art, music, performance and fine dining.
Allied Works' projects have been featured in noted national and international publications, including Conde Nast, Metropolis, Wall Street Journal, The New York Times, The Evening Standard, Architectural Digest, Architectural Record, Casabella, and Introspective Magazine.
With a slate of iconic cultural works to his name, including the Clyfford Still Museum in Denver, the Museum of Arts and Design in New York City, and the National Music Centre in Calgary, the renovation of the Eleven Madison Park in 2017 opened a new chapter in Cloepfil's career. The three Michelin star restaurant topped the coveted World's 50 Best Restaurants and is known for its elegant lines, materials, and exacting attention to detail. Established in a historic Art Deco building, the remodel takes inspiration from the neighboring Madison Square Park and its seasonally changing light, colors, textures and forms. The project was an opportunity for Cloepfil and the Allied Works team to work closely with restaurateur Will Guidara and Chef Daniel Humm on every aspect of the design, from finishes, textiles, fixtures and furniture to the creation of a custom, 18-piece ceramic dinnerware suite.
This partnership continued with the design of Davies & Brook, Chef Humm's highly anticipated new restaurant in London's Claridge's Hotel, which opened in the fall of 2019. In its few months of operation, Davies and Brook has established itself as one of the premier culinary destinations in the city.
---
AvroKO
224 Centre St., 3rd FL, New York City, NY 10013
AvroKO conceptualizes and designs some of the most progressive dining spaces in New York City. Partners and Principals Greg Bradshaw, Adam Farmerie, William Harris, and Kristina O'Neal established the firm in 2001 after meeting in college. Since establishing offices in Manhattan, San Francisco, London, and Bangkok, the 120-person firm has designed everything from interiors to uniforms. In doing so the team has drawn the attention of Condé Nast Traveler, Interior Design, and New York Magazine.
AvroKO is the architect and developer behind Saxon + Parole, one of Esquire's Best Bars in America and the Tales of the Cocktail Best Restaurant and Bar. The East Village restaurant is styled with a modernist equine theme, taking inspiration from New York City history; the namesake horses were winning local races at the turn of the century when horse stables were a common sight in lower Manhattan.
A finalist for the Hospitality Design Award for Best Fine Dining Design, Saxon + Parole employs everyday items in unusual ways. One installation wall juts into the space with knives sourced by the owners and brought in by customers. Built-in storage stacked with horse blankets provides an acoustic dampener and adds a contrasting texture to finishes like reclaimed wood, exposed brick, and a wall dotted with close to 60,000 hand-hammered tacks.
A few blocks away, on the Lower East Side, Beauty & Essex has emerged as another AvroKO darling of the downtown restaurant scene. Formerly the storefront of furniture shop Katz & Sons, the restaurant is a 250-seat jewel box hidden behind a functioning pawn shop. Haute Living named the 10k square-foot restaurant one of New York's hottest, citing the glamorous flourishes throughout the three-story space. In one room, dark, sumptuous banquettes sit under a tin ceiling draped with crystal, while in another, herringbone tile floors and textured, graphic wall panels glow under a convex skylight.
---
Bentel and Bentel
22 Buckram Rd., Locust Valley, NY 11560
Established in 1957, Bentel & Bentel has built a strong reputation in architectural design and planning. It was first founded by the late Dr. Frederick R. Bentel, and the late Maria A. Bentel, and is now headed by Dr. Paul Bentel, Peter Bentel, and Dr. Carol Bentel. The three current principals have strong expertise in the field of art and design. Paul is an alumnus of Harvard and taught in prestigious colleges including Harvard, MIT, and Colombia. Peter was a sculptor in Pietrasanta, Italy and delivered lectures in major universities worldwide including the National Autonomous University of Mexico, University of Tokyo, and Milan Polytechnic. Carol was a Fulbright Scholar at the University of Venice and is now the national chair of the AIA Committee on Design with over 10,000 members.
With this strong background, it is not surprising that Bentel & Bentel garnered multiple James Beard Awards for Best Restaurant Design and that all three principals were inducted at the Hospitality Design Hall of Fame. 
Bentel & Bentel has designed restaurants and dining clubs all over the country. The Halifax at W Hotel, Les Sablons at Harvard Square, and The Yale Club at New York City are some of the restaurants that make the firm's portfolio stand out. The Bentel team moves to the philosophy of creating spaces that engage and inspire people. They also stress the importance of keeping the projects authentic and unprecedented.
---
Biber
The Master Building, 310 Riverside Dr., Suite #1504, New York, NY 10025
With a strong affection for design, Cornell University alumnus James Biber established his namesake architecture firm. Biber has an extensive portfolio that ranges from museums to private estates, offices, and restaurants, and many of his projects have appeared in nationwide circulations such as The New York Times, USA Today, and even the Italian newspaper Corriere Della Sera. Biber also has an impressive list of affiliations including a fellowship in AIA and a membership in the National Council of Architectural Registration Board (NCARB). The firm also maintains affiliations with cultural institutions like the Museum of Modern Art, the Open House New York, and The Storefront for Art and Architecture.
Biber Architects works with the principle of 'Architecture of Identity:' the idea that projects should be based upon the identity of the clients. You can see this concept in Sullivan's Restaurant & Broadcast Lounge. This restaurant has an intertwining history with the Saturday Night Live cast and David Letterman. Biber also designed celebrity chef Bobby Flay's second restaurant Bolo, taking inspiration from the interiors of restaurants in Barcelona.
---
bonetti/kozerski architecture
270 Lafayette St., Suite #906, New York, NY 10012
Enrico Bonetti and Dominic Kozerski founded bonetti/kozerski architecture in 2000. The two have extensive architectural background in Italy and the United Kingdom respectively; Bonnetti studied under the acclaimed Italian architect Aldo Rossi, while Kozerski received mentorship from Peter Cook and John Hejduk. The duo has an impressive list of clients including music executive Rick Rubin and hoteliers Ian Schrager and André Balazs. Both have been featured by major publications such as The Monocle Guide To Better Living, Arch Daily, Departures Magazine, Icon Design, Elle Decor, Dezeen, and Wallpaper.
bonetti/kazerski architecture worked on the Norm at the Brooklyn Museum. The Brooklyn Museum partnered with Michelin-starred chef Saul Bolton to serve eclectic, multicultural dishes. The atmosphere was inspired by the museum's maze-like layout and secret storage space. Anda Andre of bonetti/kazerski laid out the massive artworks on display and put in crate boxes to fill the space as diners eat. Juxtaposing the massive fine art hanging on the wall is the modern furniture by Nordic design company Muuto. Norm, as an aesthetic whole, captivates guests with an unparalleled dining experience within the walls of an esteemed art museum.
---
CCS Architecture
180 Varick St., Suite #930, New York, NY 10014
Cass Calder Smith founded CCS Architecture in 1990. The team of 30 designers and principals now operates out of one office situated between the trendsetting neighborhoods of Greenwich Village and SoHo and another in San Francisco. With partners Taylor Lawson, Barbara Vickroy, and Melissa Werner, Smith has led the firm to critical acclaim in the pages of Dwell, Architectural Record, The New York Times, and Metropolis. CCS Architecture has also earned recognition for their restaurant designs from James Beard, AIA Los Angeles, and the International Interior Design Association.
CCS Architecture brought the charm of a quintessential Upper East Side locale downtown with designs for Sarabeth's Park Avenue South. In this renovation, a former steakhouse became the 16k-square-foot outpost — now the largest of Sarabeth's restaurants — with three private dining rooms, a patio for al fresco dining, and a large, refurbished bar. In total, the new Sarabeth's can seat nearly 400 guests at completely new tables and banquettes across its main and lower levels. The restaurant is finished in contrasting colors and varying textures, from walls wrapped in black tile and bleached wood panels, to floors tiled in varied geometric patterns. CCS Architecture also designed Covina, an elevated casual dining experience in NoMad. In partnership with Chef Tim Cushman and his wife Nancy, CCS Architecture created an environment that draws Park South Hotel guests and Manhattanites alike. Warm light and natural finishes forge a welcome oasis from the bustle of the city. A zinc-topped bar is tucked into a cozy alcove, warmed by exposed brick and wide plank wood floors. Guests sitting for a full meal may prefer the semi-private dining room, or a seat at the chef's counter, looking into the open kitchen with its custom-tiled pizza oven and wood-fired grill.
---
CRÈME / Jun Aizaki Architecture and Design
85 North 3rd St., Suite #110, Brooklyn, NY 11249
Crème founder and Principal Jun Aizaki relocated from Japan to New York City in the early 1990s before earning a degree from Pratt Institute School of Architecture. In 2004, after a few years working with formidable firm Rockwell Group and earning an IHMRS Gold Key Award for Best Restaurant Design, Aizaki established Crème, now a critically acclaimed, internationally recognized design firm. Hospitality Design honored the Williamsburg, Brooklyn-based business with a Wave of the Future Award. Crème has received similar attention from The New Yorker, Interior Design, Architectural Digest, New York Magazine, and Food & Wine.
Crème won the Prix Versailles in the restaurant category for the interior of L'Amico, an eatery in the Eventi Hotel in Chelsea. The 1,700 square-foot space combines rustic and industrial details. Woodfire ovens, clad in copper, stand next to built-in, geometric shelving used to store firewood. The rest of the open kitchen is dressed in simple black and white tile that nods at the graphic, concrete floors of the dining room. Floor-to-ceiling folding wall panels open the interior to the sidewalk, where diners sit in deep, oversized banquettes or blackened-steel and walnut chairs designed by the firm. The Promenade des Anglais is the result of Chef Alain Allegretti's collaboration with Crème — an elegant setting that taps into Allegretti's connections with Southern France. The design is transportive, from the deep blue velour of the banquettes to the graphic ceiling. Brass light fixtures, antique mirrors, and a marble-topped bar punctuate the brasserie's moody decor.
---
Gerner Kronick + Valcarcel Architects
675 Third Ave., Fl 16, New York, NY 10017
Since 1995, Gerner Kronick + Valcarcel Architects has established itself as one of New York's best-regarded firms. The firm has built millions of square feet of work that spans the world. The company is headed by industry leaders Randolph Gerner, Richard Kronick, and Miguel Valcarcel, along with co-principals Joseph Barbagallo, Benita Welch, Michael Fontaine, and Silke Rapelius. This strong company leadership afforded Gerner Kronick + Valcarcel major industry awards including Gold Key Award for Excellence in Hospitality Design, the 2018 Palladio Award, and the 2018 AIA Design Award.
Publications like The New York Times, New York Post, Architect Magazine, Arch Daily, and Interior Design have all take notice of the firm's projects. Zuma is a 24,000-square foot Japanese restaurant that takes inspiration from traditional Izakaya and Robata methods of grilling. Gerner Kronick + Valcarcel created the high-end two-story dining room, bar lounge, and private rooms with premium finishings that matches the celebrity status of the restaurant. Creator and co-founder, Rainer Becker was inspired by his tenure as the Executive Chef of Park Hyatt in Tokyo and decided to give his own take in Japanese cuisine in Zuma's first location back in 2002. Since then, over a dozen restaurant locations have been established in major food capitals like Abu Dhabi, Rome, Bangkok, and New York.
---
Glen and Co. Architecture
33 E 33rd St., Suite #906, New York, NY 10016
In over 20 years of operations, Glen & Co. Architecture won numerous awards including the coveted James Beard Award for Outstanding Restaurant Design in 2012 and 2015. Glen Coben, an alumnus of Cornell University, headed the team of architects and designers on projects commended by publications like The New York Times, Architects + Artisans, and Architectural Digest.
Coben's resume is diverse, having worked with SITE on projects located in places as diverse as Tennessee, Hiroshima, and Yokohama. He also worked as the Director of Store Planning and Retail Design in Nike. Glen's book, "An Architect's Cookbook, A Culinary Journey Through Design," takes a peek behind the curtain of many of the firm's restaurant designs and includes recipe contributions from each chef. The book was published in October 2018 by ORO Editions and is currently available to purchase on Amazon if it cannot be found at your local book store.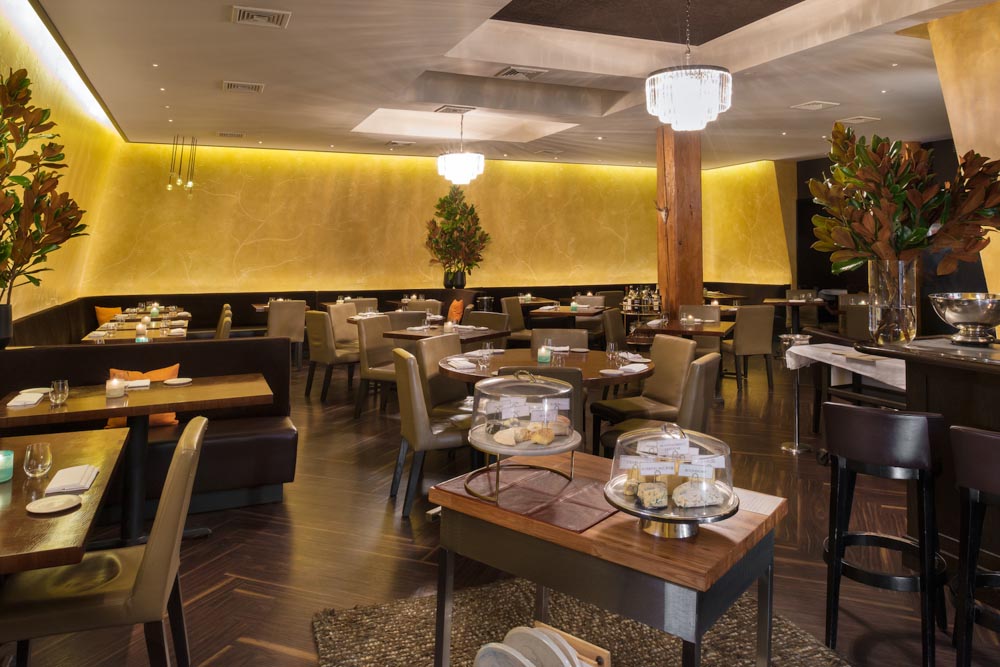 Bâtard, nominated for the 2015 James Beard Award for food, service and design, demonstrates Glen & Co.'s attention to detail and craftsmanship. This Tribeca restaurant serves Modern European cuisine with an extensive wine and cocktail list. Bâtard is the product of Chef Markus Glocker's lengthy resume, a resume that he began building with his summer job in his uncle's hotel in Austria and in the kitchen of culinary legends Charlie Trotter and Gordon Ramsay. Chef Glocker enlisted the services of the firm to design an elegant open floor plan that channels the 'high spirits', as the New York Times puts it, of the restaurant. The Bâtard team describes the 65-seater interiors of the restaurant as a combination of a classic style with a relaxed, downtown atmosphere channeled through twirling bas-relief walls and a rich combination of leather and mohair.
---
New World Design Builders
261 Madison Ave., 25th Floor, New York, NY 10016
New World Design Builders bring more than 25 years of experience to their work. President Chris Kofitsas leads the firm, a full-service company offering interior architecture and construction services. Architectural Digest, The Daily Beast, DuJour Magazine, and The New York Times have covered the New World Design Builders restaurants that have become celebrity favorites in New York and Los Angeles. New World's streamlined communication means a smoother production process and the use of natural materials creates calming environments. The strategy is working for Kofitsas' team; look for New World Design Builders projects on top restaurant lists from Business Insider, Fodor's Travel, AM New York, and Vogue.
ABC Kitchen — the New American restaurant helmed by chef Jean-Georges Vongerichten — has become a New York favorite due in part to its unique location. The Michelin-starred eatery has drawn attention from The New York Times, GQ, New York Magazine, and Vogue. In deference to the farm-to-table, sustainable menu options, the dining room is dressed in natural wood floors and exposed beams. Raw, concrete columns are softened by moody lighting and wood, natural-edge tabletops. The James Beard Foundation named ABC Kitchen the Best New Restaurant of 2011. Across town is Toro NYC, a 120-seat restaurant bringing the flavors of Barcelona to Chelsea. The design plays up the former factory setting. To warm the steel beams, concrete floors, and exposed ductwork, the design also brings in a textured wall of wood panels and 18-foot windows that allow in natural light and city views.
---
Richard H. Lewis Architecture
445 Central Park West, Suite #12E, New York, NY 10025
A sole proprietorship, Richard H. Lewis operates out of two offices on Manhattan's Upper West Side. Since 1982, Lewis has created hospitality spaces that establish trends and galvanize the paradigms of New York's high-end dining world. Interior Design, The New York Times, New York Magazine, and The New York Post are among the publications that have taken notice of Lewis projects. Those projects include successful newcomers — such Via Carota, Pisellino, Pastis, the bar at Momofuku Ko, Momofuku Kawi, The Great Northern Food Hall, Urban Space Market at 45th and Vanderbilti — as well as iconic New York destinations, like Balthazar and Tavern on the Green. The firm also designs luxury retail locations, workspaces, and private residences.
Keith McNally, dubbed by The New York Times as 'The Restaurateur Who Invented Downtown', enlisted Richard H. Lewis Architect and Ian McPheeley in reopening the beloved New York restaurant Pastis as well as Morandi, Balthazar, and Augustine. The firm recreates a new version of the former restaurant while retaining much of the old details including the original bar, mirror light boxes, and tiles. 
In the heart of Manhattan's Central Park lies Tavern on the Green. Years after closing, the legendary restaurant has been revived with its original design still intact. The renovation required New York City to invest $20 million into gutting the original and replacing the stone 1880-era roof that had once sheltered the sheep who roamed the adjacent meadow. The new owners put an additional $18 million into updating the building and restoring the facade. Lewis brought luster to the 350-seat dining rooms with gold leaf mirrors, tufted-velvet banquettes, and Victorian Gothic features. Diners can also sit outside in the bucolic yet contemporary courtyard, which brought the firm a Lumen Award of Merit.
---
Rockwell Group
5 Union Square West, New York, NY 10003
David Rockwell, FAIA founded Rockwell Group in Manhattan in 1984. Now, under the care of Rockwell and partners Greg Keffer and Shawn Sullivan, the firm employs a team of 250 designers and staff. From their offices in New York, Shanghai, and Madrid, Rockwell Group produces designs for projects in hospitality, healthcare, retail, and more. The firm, a James Beard Foundation Who's Who of Food & Beverage inductee, has earned the National Design Award from the Cooper-Hewitt National Design Museum, the AIA New York President's Award, among other prestigious architecture honors. Condé Nast Traveler, Food & Wine, and Fast Company all rank Rockwell Group and among the most innovative firms in the industry.
Having developed a 23-year relationship with Chef Nobu Matsuhisa — one that began with the restaurant's Tribeca location — the firm is now the design collaborator for Nobu's locations worldwide. The Rockwell Group design for Nobu Downtown, in the Financial District, won an NYCxDesign Award in the Restaurant/Bar category. The new, 4,500 square-foot restaurant is located in the former AT&T building. Immense, Botticino marble columns rise around the perimeter and through the center of the ground floor dining room. Another traditional feature, a coffered ceiling, gives way to a wooden canopy, pieced together with undulating wood beams and designed to resemble origami. Tao, another icon of the New York restaurant scene, also looked to Rockwell Group to design their Lower Manhattan outpost. Tao Downtown occupies the former home of the Maritime Hotel in Chelsea. Eschewing the typical dining format, the team created a dynamic, two-story layout that moves guests through various lounge areas spread across the 22k-square-foot space. Twenty-foot statues, a grand staircase, and carved pillars add drama and scale to the experience.
---
Slade Architecture
77 Chambers St., New York, NY 10007
James Slade and Hayes Slade founded Slade Architecture two decades ago. Since then, the firm has garnered major awards and publications including multiple industry awards from Fast Company, Interior Design Magazine, AIA, Society of Registered Architects, and appeared in over 300 publications including The New York Times, Nylon, and Surface.
James and Hayes are aided by associate principal Magdalena Stoenescu in operations in New York and in international ventures. James is a past co-chair of the AIA New York Awards Committee and an alumnus of Cornell University and Columbia University, while Hayes is the president of AIA New York and an alumnus of Cornell University and University of Pennsylvania Wharton School of Business.
Slade Architecture designed the Clubhouse for Virgin Atlantic. The design aims to translate the warmth and identity of the airlines into the lounge. Avant-garde finishes and art by New York-based artist Jorge Colombo fill the walls and surfaces while geometric and non-linear shapes set the tone. The lounge also sports bold magenta and black highlights, creating a modern, youthful appeal. The project has won a number of industry awards, including the 2014 James Beard Foundation Outstanding Restaurant Design Award in the 'Projects with 76 Guests or More' category.
---
STUDIO V Architecture
44 E 32nd St., 3rd Floor, New York, NY 10016
With millions of square feet of work under design and renowned for their innovative restaurant designs, New York firm STUDIO V Architecture is among the city's most prominent architects. Jay Valgora, an alumnus of Cornell and Harvard, founded STUDIO V in 2006 after being Design Director for Walker Group and Rockwell Group. Local and national publications like Boston Magazine, Architectural Record and Wall Street Journal feature STUDIO V routinely. STUDIO V also won the prestigious New York Design Award for Best Commercial Project.
STUDIO V has demonstrated a flair for complex and innovative commercial projects. The firm's knack for contemporary design blends well with its use of unconventional materials and dramatic layouts to dramatic visions to life.
The Morimoto Asia at Disney Springs is one of the studio's most daring projects. This 500-seater modern Pan-Asian restaurant is owned and headed by Chef Masaharu Morimoto, a skilled chef and a famous personality from the Japanese Cooking Show, Iron Chef. The restaurant is set in a high-ceiling room featuring a sculptural 290 foot long bar that links and unites the sushi bar, dining areas, and lounges at all levels of the dramatic 36-foot tall, two-story space.
---
Wid Chapman Architects
547 West, 27nd St., Suite #304 New York, NY 10001
Wid Chapman Architects has completed projects across the US, as well as in the Dominican Republic, Malaysia, and other countries around the world. Founder Wid Chapman, a member of the American Institute of Architects (AIA), studied architecture at the Rhode Island School of Design and went on to chair the interior design program at Parsons School of Design. Since establishing the firm in 2003, Wid has become an authority in lifestyle design, with projects featured in Hospitality Design, New York Magazine, Interior Design, and The New York Times, as well as international publications in Japan and India.
The Wid Chapman-designed Industry Kitchen is in an unusual spot. This social media-ready bar and restaurant occupies 3,200 square feet under FDR Drive, the freeway that runs along Manhattan's eastern waterfront. Architectural Digest and the Wall Street Journal have noted the restaurant's innovative design. Floor-to-ceiling windows just yards from the water's edge give diners panoramic views of boats, bridges, and Queens. The design draws from the view; green tile evokes the flowing river, while concrete and iron recall the Brooklyn Bridge and, of course, the city's skylines. A wood-paneled ceiling and natural wood table- and bar-tops mediate the effect of the more industrial finishes. Up the block, on SHoP Architects-designed Pier 15, you'll find Watermark Bar. This Chapman project is a bit larger, with 3,500 square feet of indoor and outdoor space for up to 200 guests to enjoy a cocktail after exploring the South Street Seaport. The restrained design centers on a large bar wrapped in black subway tiles and topped with reclaimed wood. Metal finishes and globe light fixtures hint at old New York without competing for the view.